Premier Club AAU Teams
All teams are full! There are few practice player spots available for motivated and competitive players. If you are interested in an evaluation please email us at [email protected].
2024 AAU Season
Hoop Dreamz will hold tryouts at the end of February for our next AAU season which will start in March 2024 and run for 11 months until February 2025 (August month teams are off). Tryout dates to follow!

Premier Club Program Details:
This program is only for ADVANCED and COMMITTED players
Involvement and direct access to Coach Billy Armstrong – former D1 and professional player, current Head Coach of Nationally Ranked Bergen Catholic High School
HD Premier membership is an 11-month commitment. Season runs from March through February with August off.
Tuition is $395 per month or paid in full with 10% discount (financial aid available to those in need)
Incredible value that includes everything below and more!
Program Includes:
Comprehensive Player Development Program
2 weekly team practices* (see practice schedule below)
Optional weekly skills workouts with Coach Armstrong (Tuesdays in Westwood)*
*Winter season has one team practice a week and one skill workout a week (Wednesdays at Bergen Catholic)
Multiple year-round tournaments – local and two overnight
High School Teams – exposure events and guidance on college recruitment
8 free clinics throughout the year run by Billy Armstrong ($830 value)
1 free week of Crusader Summer Basketball Camp ($395 value)
Billy Armstrong's P.H.D. program to develop skills for life – self confidence, overcoming fears, handling adversity and developing the right mindset for elite level performance and success
Highly Organized Communication
Organized scheduling
Easy to use app and team calendar
Support staff with timely communication emails and text messages, phone calls answered promptly
Upfront player and parent expectations – we pride ourselves on communication with our parents and players
Trained and Certified Coaches
Experienced and knowledgeable coaches with high level experience at the High School and College level
Positive coaching and feedback – Coach Billy's "No blaming, shaming, or yelling" coaching philosophy
Hoop Dreamz Trained and Certified – all coaches use and execute the "Hoop Dreamz Way" of approaching and teaching the game of basketball
Honest and transparent player feedback
Professional background checks on all staff prior to employment
All staff are CPR, First Aid and Child Safety Certified
FAQ's
Is this the only AAU program you are offering?
Yes this is the only AAU program we have.
What if my son does not make the team?
We have a skill development program for those who don't make the team and it includes an opportunity to be on a team if a spot becomes available.
How many teams per grade?
Typically one team per grade is formed, however, more than one team may be formed based on the amount of competitive-level players at tryouts.
Can you play multiple sports?
We would never discourage kids to play multiple sports, but we do hope that our team is a priority especially when it comes to games.
Can you play on another AAU team?
We would discourage this and expect our players to be committed to Hoop Dreamz.
My son goes to sleep away camp in the summer can he join this program?
Yes. Modificiations will be made for the month of July for players who are away at sleep away camp.
My son can not play in the Fall season (or Winter or Spring) can he still join?
This program is meant for players who can play year round. Modifications can be made on a case by case basis.
My son will be in High School next Winter what happens then?
During the HS basketball season, our HS players will still have skill workouts which is much needed because HS coaches mainly focus on team concepts. In many cases players skills drop during the HS season because they are not getting enough reps with their individual skill development. Additional HS only clinics will also take place.
Will Hoop Dreamz help my son get recruited to play in college?
Yes. We have helped countless players get recruited. Coach Billy has many years of experience and connections to help you through the process.
What is the cost of the program?
$395 per month or payment made in full for the 11 months with a 10% discount.
Where are practices held?
Bergen Catholic HS (Oradell), Westwood Comm. Center, Assumption Academy (Emerson)
When are practices?
This is a tentative practice schedule that is subject to change based on final teams formed:
3rd grade: M & Fr 4:00pm-5:30pm @ WWCC
4th Grade: M & Th 4:15pm-5:30pm @ WWCC
5th Grade: M & Th 4:15pm-5:30pm @ WWCC
6th Grade: M & Th 6:30pm-7:45pm @ WWCC
7th Grade: M & Th 7:45pm-9:00pm @ WWCC
8th Grade: M & Th 6:30pm-7:45pm @ BC
High School: M & Th 7:45pm-9:00pm @ BC
When and where are the games?
Fall, Spring and Summer seasons will include local tournaments and two overnight which are all on weekends. The Winter season all teams are entered in a local league where one weekly game is played.
Are there overnight tournaments?
Yes, all teams play in two overnight tournaments over the course of the season. One is held in early June in Wildwood. Another is held in October or November at Spooky Nook in Manheim PA.
Who coaches the team?
Teams are coached by our trained and certified Hoop Dreamz coaches. Each team has their own coach for the 11-month period, however players are exposed to all of the coaches including Billy Armstrong during the skill workouts, clinics and camps.
Trust. Care. Commitment.
Hoop Dreamz AAU is for the serious and competitive basketball player who wants to improve his or her game in every aspect. For those who are committed to the sport beyond the winter season, we offer high-level AAU programs in the fall, winter, spring, and summer based out of Bergen County, NJ. Our program's core values are based upon T.C.C. Trust, Care, Commitment.
From mandatory tryouts to trusted teamwork and challenging tournaments, our athletes learn important skills that help them succeed both on and off the court. Hoop Dreamz AAU players build confidence through competence – as they receive the best in basketball instruction from our highly qualified and experienced staff of coaches who have competed and coached at high school and collegiate levels.
We are proud to have helped many players fulfill their "Hoop Dreamz" of playing in college. Click here to see a list of former Hoop Dreamz players who have gone on to play at the next level – all from Bergen and Rockland counties!
For more information on our AAU Program, check out AAU FAQs
What you are as a person is far more important than what you are as a basketball player.
–John Wooden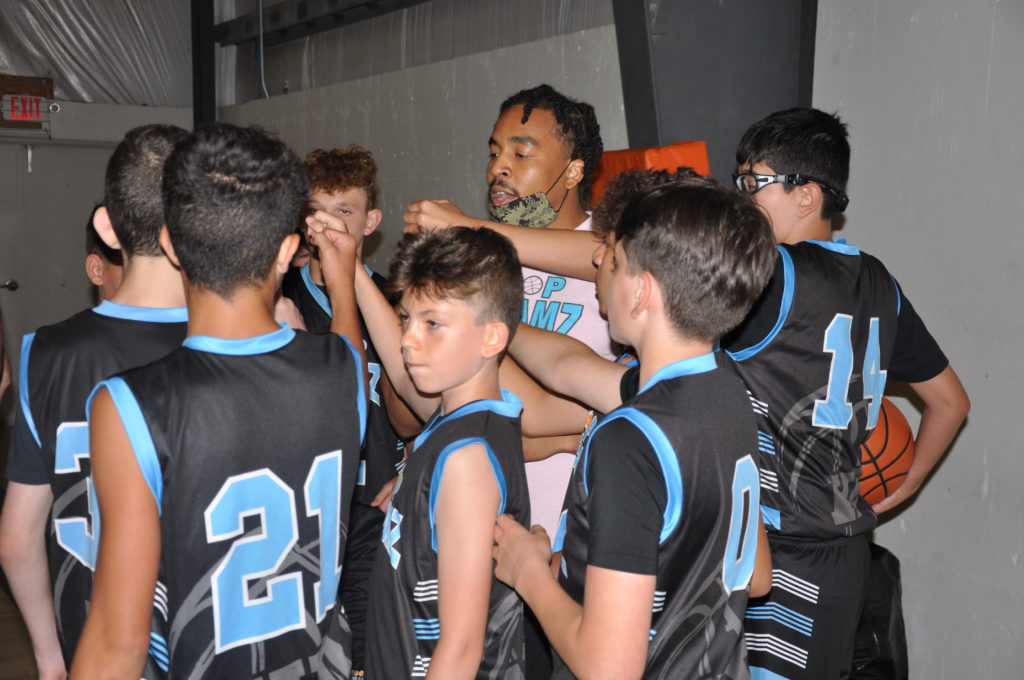 Testimonials