Premier Club AAU Teams
Fall Teams
All teams are full at this time. Practice player spots are available for motivated and competitive players for grades 5th-9th. Please contact us if you are interested. New teams will be formed after our next round of tryouts at the end of February. See below for program details as well as tryout registration.
Spring 2023 Tryouts
All tryouts held at:
Bergen Catholic High School
1040 Oradell Ave. Oradell, NJ
Sunday Feb. 26th
12:00pm-1:00pm Boys 3rd & 4th
1:00pm-2:00pm Boys 5th & 6th
2:00pm-3:00pm Boys 7th & 8th
3:00pm-4:00pm Boys High School
Monday Feb. 27th
5:00pm-6:00pm Boys 3rd & 4th
6:00pm-7:00pm Boys 5th & 6th
7:00pm-8:00pm Boys 7th & 8th
8:00pm-9:00pm Boys High School
Tryout Info:
Players are required to attend one tryout
$30 tryout fee is paid at the door – cash or check only
Tryout fee is good for both tryouts – players are welcome to attend both days
Players must be registered before trying out
Tryouts are closed to parents
Premier Club Program Details:
This program is only for ADVANCED and COMMITTED players

Less teams and less players per team (10 player max) = more playing time and more personalized attention for all our teams
Involvement and direct access to Coach Billy Armstrong – former D1 and professional player, current Head Coach of Nationally Ranked Bergen Catholic High School
HD Premier membership is a 11 month commitment
Tuition is $395 per month or paid in full with 10% discount (financial aid available to those in need)
Incredible value that includes everything below and more!

Program Includes:
Comprehensive Player Development Program
2 weekly practices (see practice schedule below)
Optional weekly skills workouts with Coach Armstrong (Tuesdays in Westwood)
Multiple year round tournaments – local, overnight and the Hoop Group circuit
High School Teams – exposure events and guidance on college recruitment
8 free clinics throughout the year run by Billy Armstrong ($760 value)
1 free week of Crusader Summer Basketball Camp ($395 value)
Billy Armstrong's P.H.D. program to develop skills for life – self confidence, overcoming fears, handling adversity and developing the right mindset for elite level performance and success
Highly Organized Communication
Organized scheduling
Easy to use app and team calendar
Support staff with timely communication emails and text messages, phone calls answered promptly
Upfront player and parent expectations – we pride ourselves on communication with our parents and players
Trained and Certified Coaches
Experienced and knowledgeable coaches with high level experience at the High School and College level
Positive coaching and feedback – Coach Billy's "No blaming, shaming, or yelling" coaching philosophy
Hoop Dreamz Trained and Certified – all coaches use and execute the "Hoop Dreamz Way" of approaching and teaching the game of basketball
Honest and transparent player feedback
Professional background checks on all staff prior to employment
All staff are CPR, First Aid and Child Safety Certified
FAQ's
Is this the only AAU program you are offering?
Yes this is the only AAU program we will have.
What if my son does not make the team?
We have a skill development program for those who don't make the team and it includes an opportunity to be on a team if a spot becomes available.
How many teams per grade?
Our goal is one team per grade but there could be more than one based on the competitive level at tryouts.
Can you play multiple sports?
We would never discourage kids to play multiple sports. Most of our current AAU players play 3-4 seasons with us while playing other sports. With that said, we are limiting teams to only 10 players so we hope that our team is a priority especially when it comes to games.
Can you play on another AAU team?
We would discourage this since we are limiting teams to 10 players we need players who are committed to Hoop Dreamz.
My son goes to sleep away camp in the summer can he join this program?
Yes. Modificiations will be made for the month of July for players who are away at sleep away camp.
My son can not play in the Fall season (or Winter or Spring) can he still join?
This program is meant for players who can play year round. Modifications can be made on a case by case basis.
My son will be in High School next Winter what happens then?
During the HS basketball season, our HS players will still have skill workouts which is much needed because HS coaches only focus on team concepts. In many cases players skills drop during the HS season because they are not getting enough reps with their individual skill development. Additional HS only clinics will also take place.
Will Hoop Dreamz help my son get recruited to play in college?
Yes. We have helped countless players get recruited. Coach Billy has many years of experience and connections to help you through the process.
What is the cost of the program?
$395 per month or payment made in full for the 11 months with a 10% discount.
Where are practices held?
Bergen Catholic HS (Oradell), Westwood Comm. Center, Assumption Academy (Emerson)
When are practices?
This is a tentative practice schedule that is subject to change based on final teams formed:
3rd grade: M & Fr 4:00pm-5:30pm @ WWCC
4th Grade: M & Fr 5:30pm-7:00pm @ WWCC
5th Grade: M & Th 5:30pm-7:00pm @ WWCC
6th Grade: M & Th 6:30pm-8:00pm @ BC
7th Grade: M & Th 8:00pm-9:30pm @ BC
8th Grade: M & Th 8:00pm-9:30pm @ BC
High School: M & Th 7:00pm-8:30pm @ WWCC
When and where are the games?
Spring and Summer seasons will include local tournaments (bballshootout), higher level tournaments (Hoop Group circuit) and some overnight. Fall and Winter seasons will include local league games and some local tournaments. Tournament games are held on weekends.
Are there overnight tournaments?
Yes there will be some overnight tournaments that would only be during the Spring/Summer season.
Who coaches the team?
Teams are coached by our trained and certified Hoop Dreamz coaches. Each team has their own coach for the 11 month period, however players are exposed to all of the coaches including Billy Armstrong during the skill workouts, clinics and camps.
Trust. Care. Commitment.
Hoop Dreamz AAU is for the serious and competitive basketball player who wants to improve his or her game in every aspect. For those who are committed to the sport beyond the winter season, we offer high-level AAU programs in the fall, winter, spring, and summer based out of Bergen County, NJ. Our program's core values are based upon T.C.C. Trust, Care, Commitment.
From mandatory tryouts to trusted teamwork and challenging tournaments, our athletes learn important skills that help them succeed both on and off the court. Hoop Dreamz AAU players build confidence through competence – as they receive the best in basketball instruction from our highly qualified and experienced staff of coaches who have competed and coached at high school and collegiate levels.
We are proud to have helped many players fulfill their "Hoop Dreamz" of playing in college. Click here to see a list of former Hoop Dreamz players who have gone on to play at the next level – all from Bergen and Rockland counties!
For more information on our AAU Program, check out AAU FAQs
What you are as a person is far more important than what you are as a basketball player.
–John Wooden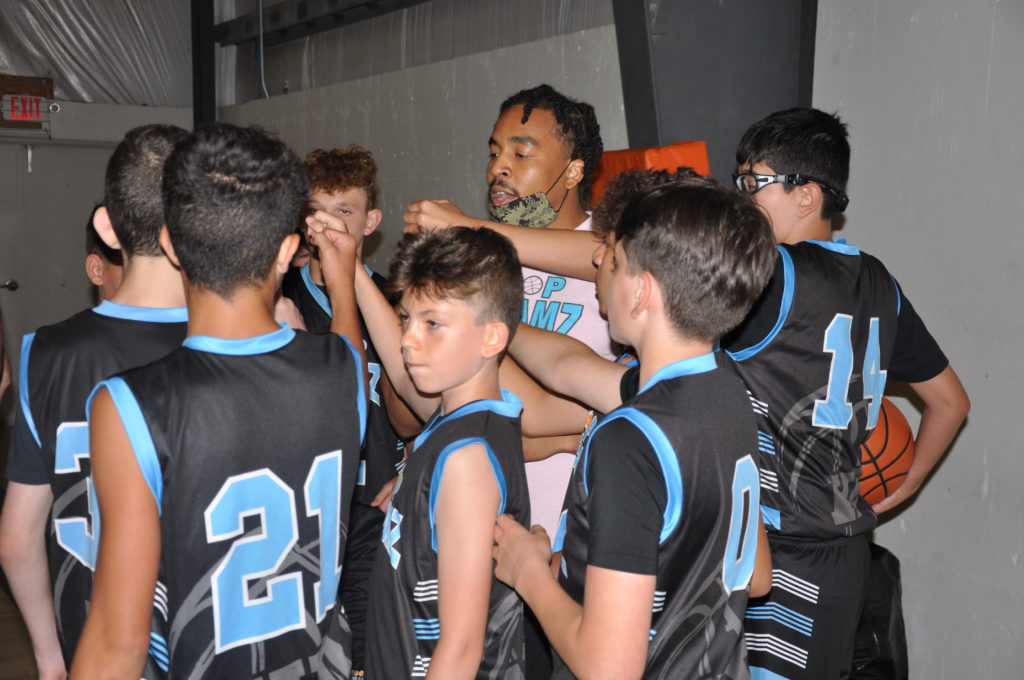 Testimonials
We would like to thank you for giving Andy an opportunity to play in a team! He really enjoyed it and made friends! Your work and enthusiasm is truly admirable! Thank you again, have a great Summer.
Marina – Tenafly
Thank you for a great fall season. I really noticed a significant improvement in Ben's game. In addition to improving his overall skills I noticed a higher level of intensity and an eagerness to compete.  Thank you for always encouraging him. He is looking forward to playing for you in the Winter and Spring seasons.
Adam – Closter
Thank you for such a great AAU season. Connor truly improved as a player and team member. Our coaches were great and I loved watching them interact with the team off the court. They were wonderful with the boys. Also thank you for being so organized and keeping things so updated. You run a very nice organization/program. Thank you!
Pam – Closter
Just wanted to give you some positive feedback on Mike. We think he is an excellent teacher/mentor and Robert really  responds well to him. He is a great addition to your staff. He brings the same positive energy that Billy gives all the kids, which we feel is really an invaluable asset.
Rob – Montvale
Just a quick note to say thank you for your support of Colin and the U11 White team this Fall season. I could see lots of progress in Colin from the early part of the season all the way up to the championship game last night. Nothing like lots of court time to improve on the game. Also, Colin did not know any of the boys prior to the season and it took a little time for him to get comfortable, but as the season went on you could see Colin and all of the boys were more comfortable with each other and each other's play as time went on too. They did well to jell as a team. Thanks again for all your support…Please pass my thanks onto Coach Mike as well, he deserves lots of the thanks too.
Paul – Washington Twp.
I want to thank Billy and Frank for a great season and a great time! Justin has learned so much from the 2 of you it is amazing! I think the 2 of you are unbelievable coaches and role models for all the kids. We will always recommend and keep coming back to your program!
Neil – Paramus
I've been meaning to send you a note to let you know how happy I am that Billy decided to have a 16U team this season.  I know he was undecided about doing it but it has turned out to be such a great season.  Coach Chris has been remarkable.  His enthusiasm, dedication and commitment to the team is visible at every game and practice.  He has been able to motivate them and bring them together like no other coach, (with the exception of Billy, of course!) has been able to do.  You are really lucky to have him as part of your team! I hope that Thomas enjoys his high school season as much as he is enjoying the fall, and I certainly hope Hoop Dreamz will have a high school team in the Spring. I know Thomas will want to continue playing in the Spring. Thanks for everything.
Marilyn – Bergenfield
We had a great summer, thank you. I hate to see it come to an end. I can't express how much we appreciate you coaching them. They have learned so much and think the world of you as a player and a person. You have taught them much more than basketball.
Tom & Christine – Allendale
I've attended several practices and find Frank to be extremely knowledgeable, patient, appropriately demanding and highly approachable. I think Jack is learning a ton about basketball and about the "attention to details" that will make him successful on and off the court.
Bill – Oradell
We are so thankful for "HOOP DREAMZ" – and especially Billy –  we are so grateful that Eric (and Greg) has learned so much from Billy and reinforced the values that they take with them when they play school team sports.  Leading by example, "trust, care, commitment" – those life lessons Eric is getting from Billy and the same values his dad is teaching Greg and Eric with 54 other Boy Scouts!  But when I talk to Eric about "trust" and "respect", it's not usually Boy Scouts that come to mind first, but "that's what Billy teaches"!
Fong – Allendale
I know being able to train with you and to become the basketball player that I did was such an incredible opportunity, for me not just as a basketball player, but as a person in general. I always feel so lucky that I got to have those one-on-one lessons; through them and all the AAU and Hoop Dreamz leagues, I think I really learned how to be completely dedicated to something, and to never, ever give up. Again, it was such an amazing experience being able to play with you and learn from you – inspiring me much within and beyond basketball. For all that, I can only say thank you so much!
Ryan – Montvale
I also wanted to thank the coaches for their commitment and hard work. I especially want to thank Coach Billy. I, admittedly, am limited in my knowledge about basketball, but I do know when someone is inspirational and provides strong, clear, appropriately demanding guidance.  Billy really pushes the boys to be the best that they can be and beyond basketball, has helped provide life lessons of right and wrong within the context of his coaching. Thanks again for a great season.
Wendy – Norwood
I wanted to personally thank you and your staff for such a great summer of basketball. There are many "Billy-ism's" being repeated around our home (e.g., turn my weaknesses into strengths) and it just reinforces my belief that having Brendan participate in your programs is so worthwhile.  Thanks again for all the energy, time and effort you put into Hoop Dreamz!
Holly – West Nyack
I would also like to comment on what a professional and well-run program you've put together. It's extremely well organized! Chris has gotten a lot out of playing AAU this spring.
Joanne – Norwood
You have always steered me in the right direction and have always wanted the best for me. Playing basketball for you was a great experience, you were by far the best coach I've ever had. You're a great role model and I just wanted to let you know that I appreciate everything you've done for me. If I don't see you, have a safe and healthy summer.
Sean – River Vale
What a wonderful season I've had. I learned a lot physically and mentally. I am glad I joined Hoop Dreamz. It was both hard work and fun! Thank you.
Sofia – River Edge
Just wanted to thank you for a great season. Alison thoroughly enjoyed HoopDreamz …awesome coaching with a great group of girls and nice parents made it a great experience. Plan on doing some summer camps and will be back in the fall!
Kathy & Pat – Nutley
Frank, Billy and Lauren – Just wanted to drop you a short note to say thank you again for the spring season. For me, the success of the program is measured by Jack's desire to go to practice – and he always wanted to go. After every practice he told me that he learned something and had fun. Have a great summer.
Bill – Oradell
Thanks to you and Billy for all the great years of basketball. We can't believe he started back with 10u and now is finishing up. He has become a better player because of Billy and Hoop Dreamz. We look forward to seeing you during the HS season.
The Kellys – Park Ridge
I would like you to know what your program has done for our son in just one summer. Last year, our son played for your summer AAU team. It was his first time being a part of Hoop Dreamz. In that short amount of time, he learned more than he ever did playing for an entire two seasons on travel. This past season, he played for the town rec team and they went undefeated and were featured in the local paper. He played in every single game and was a starter in a number of games. He also played for the St. Andrew's travel team where he was a starter in every game and was chosen to represent his age group in the CYO All Stars game.
The CYO season wasn't a great one, but he didn't care because all he cared about was being given an opportunity to play no matter the results in the end. Other parents noticed how much he has developed as a player and we've told ALL of them it was your program. I know part of it has to do with maturity, but a big part of it was being part of a program that allowed him to develop as player. I've included two pictures because the smile on his face says it all. Again…many congrats. Thanks!
Almida – Westwood
Wow, today's win over Riverside was amazing. Billy's coaching was the key factor! He gets these kids to play at their highest level. And, he just outright out-coaches the opponent. The play calling was magnificent. Really proud of them today. Both today and last weekend were really great displays of this 8th grade team.
Thanks again for another great season. We'll see you this week at camp. And, of course, won't be long til we're gearing up for Fall again.
Lori – Park Ridge
Billy, Lauren, Frank,
Thank you all for a great season! Madison really enjoyed your coaching and being part of the team. Have a great winter!
The Seelman's – Westwood
I am blown away by Billy's enthusiasm and attention to detail during a game! He uses every teachable moment and my daughter Michaela has and will benefit greatly from it! You do a terrific job! Thank you.
Jeannie – Paramus
Billy,
You did a tremendous job with the boys this season. The boys did a fabulous job and you should be very proud of what you accomplished. You and Lauren do a great job with the program and have all our confidence and support of Hoop Dreamz. We could not be prouder to have two of our children be apart of the Hoop Dreamz family. It is a excellent program and could not be happier.
Caroline and Thomas have enormous respect for you and the program. We owe this exclusively to you, Lauren, and all the coaches.
Colleen & Michael – Oradell
Billy,
Our boys are extremely fortunate to not only be a part of the Hoop Dreamz program but to have you as their coach. I've known you for a very long time and have seen you grow not only as a BB player and later as a coach but as a great kid who developed into a terrific person. They have been taught by you to stand tall and not whine or complain when things are not going their way. You should be very proud of what you have accomplished with this team and we couldn't be more pleased with the coaching and direction Owen and all the boys are receiving this season.
Mike – Harrington Park
My wife and I are very appreciative of all your efforts, your camps and all of your basketball programs have instilled in our children and their friends. I know my three boys have benefited tremendously. These 3rd grade boys have learned so much and have played tremendously well together this entire season. I can speak for my son, who is eager to learn from your tutelage and your passion for the game. I don't know the game, and all I can ask for and hope for is that his Basketball IQ has increased and continues to grow with every practice, game and season.
You have been there for every step of the way, and again we are very appreciative that you took the time to coach this team. We have been completely satisfied as always with every spring/fall basketball season. Onward and upward with HD.
Rob – Leonia
Thanks for all the time you have taken to work with Thomas and his team. Thomas has always loved the game (even decided to drop soccer next year for it) and as we previously noted, his passion to play has grown even more since being part of your program. Thanks again.
Mike & Regina – Oradell
Dean made the A team and I just wanted to say thank you for everything. He enjoyed playing for you and being on your team. His skill has come a long way since he started playing for you. We look forward to seeing you in the spring. Good luck this season with your high school team.
Cheryl – Tenafly
Billy,
From the moment we heard you were coaching this team Marty, Charlie and I were thrilled for Charlie to have the oppotunity to learn from a coach of your caliber. If it wasn't obvious already, we want you to know how much we truly appreciate all you have done this season for the development of Charlie and the team. You clearly have a genuine concern for the deveopment and success of each child you instruct. Charlie has enjoyed being part of your team and has learned so much…and we've enjoyed watching from the sidelines. Thanks.
Casey – Upper Saddle River
Billy – Have a great season with Bergen Catholic and thank you for all you did and continue to do for both our girls. Your work and Frank's work always shines through them. We always feel very sad in the fall when they all move on to their winter teams. You guys create more than just players you create a warm and caring atmosphere for all in that gym. You guys especially with my middle one Angeanette have created lasting friendships and a feeling of family. For all this and so much more I thank you both.
Sandie & David – Montvale
I want to start off by thanking you for a great season of basketball. Jesse has learned so much from your coaching and has enjoyed every minute, whether sitting on the bench, cheering on his teammates or on the court playing his heart out. I had no intention of putting him on a spring AAU team but I am very happy I put him on Hoop Dreamz and would love to see Jesse grow up in your program. Jesse is a kid who strives to be a better player and win games and and I can think of no better place for him to be, then working with you and Hoop Dreamz. I appreciate all your hard work with the boys I see what you do for them, in every practice and game.
Paul – Woodcliff Lake
We have been very impressed by your program from both a skills development perspective as well as sportsmanship. Outstanding in the true sense of the word. Thank you!
Jenn – Oradell
Billy,
I just wanted to reach out to you and thank you for another great season at Hoop Dreamz. This year our goal was to let Ben play the game he loves and also prepare him for the school team try-out. This morning we found out he made the team. We are so happy for him and so grateful to you, Chris and all the other coaches for their guidance.
We appreciate the positive way you and your staff coach Ben. His confidence on the court has grown tremendously. He knew walking into school today that he deserved to be on the team, whether he made it or not. Thanks again.
Michele – Closter
I wanted to let you know that I have nothing but praise for you and your organization. Thanks for all you do and I look forward to seeing my son play for your organization for many years to come.
Sandra – Leonia
I just wanted to send you both a quick thank you for setting up the OC trip. It was a great experience. The boys had an opportunity to spend the weekend together, as well as experience different competition. Nick had a great time and he loves being part of Hoop Dreamz. It really has been great for his self confidence and his overall growth. You run the best youth sports program out there! Thanks again!
Tony – New City
Our son had the privilege of being on the 4th grade team this spring. We just wanted to thank you for an amazing experience. He learned so much about the game, the importance of being a good teammate, and sportsmanship. He looked forward to going to every practice and game and no matter how tired he was when he got home he would ask to go out and practice some more. Coach Mike did an amazing job and I enjoyed coming a little early to watch the end of practices. We look forward to Brian and his younger brother Daniel attending the camp this summer and being involved in aau in the fall.
Kerrie & Brian – Oradell
Just a quick note to say how amazing Mike is with the third grade boys. I'm sure you get flooded with compliments, but I felt that I should express how impressed we are and grateful that Aidan is a part of such a positive, successful experience.
Teddi – Englewood
Thanks for running such a well organized program. The boys love it! Coach Mike did an amazing job with both teams. Hoop Dreamz is always such a pleasure to deal with. I wish all the teams my boys played for were like Hoop Dreamz! We look forward to an exciting future with the program.
Kerrie – Oradell
Billy/Lauren,
I want to thank you both for running an excellent program. In a day and age when parents/kids have many options for basketball, I'm very thankful for staying committed to HoopDreamz. Sal made great friends, most importantly he's grown as a basketball player and I feel he's ready for a good High School career. We will be looking for opportunities to play and train with Billy.
Sal & Rita – Old Tappan
Timmy, Joann and I love everything about Hoopdreamz. Playing for Billy has been the biggest highlight in Timmy's life. Billy sets such a great example for all the kids. He teaches them all the right life lessons. Out of all the great teams Timmy has played for in Hoop Dreamz, this is a very special team that has performed beyond everyone's expectations there is a true synergy amongst them. Thank you both for running such a fantastic program.
Jo-Ann & Dan – Haworth
Lauren and Billy,
Thank you both for all you've done this season to help Kelsey improve her game. Kelsey really enjoys playing with these girls and looks forward to every time she steps out on the court with Billy as her coach. You really have a gift for coaching and I know how much Kelsey enjoys playing with for you. Have a wonderful summer!
Jim & Dawn – Old Tappan
Thanks for all you have done for our two boys. They had a blast and once again their teams had a very successful season. Through the year, the boys played all different levels of competition, but I found it amazing how they all realized that they learned their biggest lessons from playing teams better than them. Team Hoop Dreamz, I can tell you my boys had a great deal of fun, and during their time with you this year they became better basketball players. Billy and Mike, your are preparing them for the next level, and as a parent I couldn't ask for anymore. God bless!
John – Upper Saddle River
Dear Lauren and Hoop Dreamz Coaches,
I wanted to write a short note to thank you for another terrific season. This was Bobby's third season with HD and he (along with the other boys) has had the privilege of being coached by three great coaches. All three have distinct coaching styles and all three teach the necessary basketball skills extremely well. But the one thing I have noticed is that Hoop Dreamz coaches place great importance on teaching the boys about sportsmanship and character. And I really believe the 4th grade boys team has been learning these lessons and applying them to every game. They have grown into selfless team players who always encourage one another and, in my opinion, always display the highest level of sportsmanship at every game. I am most proud of the fact that I've received numerous compliments from Bobby's teacher this year about his determination to always show his best effort in his schoolwork, his leadership and always being the first one to offer help to a classmate. Thank you for all of your hard work in coaching the boys over the past three seasons–it is really making a difference.
Patty – Tenafly
Lauren, Coach Billy and Coach Mike,
Thank you very much to all of you for making this a great season for the fifth grade boys It was a dynamic and talented group of boys, and Mark was blessed to be a part of this team. We are also grateful to the Hoop Dreamz program for offering the boys the opportunity to improve their basketball skills. But more importantly, your program affords our boys the opportunity to witness real-life examples (coaches and staff) that model the virtues of respect, responsibility and, commitment that young boys need to develop and master. Thank you again and again.
Karen – Paramus
Thank you both for a great experience. We are very happy with the progress our daughter made this season and look forward to next season! Enjoy your summer!
Karen – Wayne
Lauren and Billy,
I want to thank you and the Hoop Dreamz organization for another great season. Over the last 3 seasons Jesse has been lucky enough to have been coached by 3 great coaches. His growth, confidence and love of the game continues to grow, in large part to the training and coaching he gets working with you guys. Thank you and see you in the fall.
Paul – Woodcliff Lake
A simple thank you to Hoop Dreamz and to Coach Mike for a great fall season. My son Ryan thoroughly enjoyed it and improved over the course of the last 8 weeks which is what it is all about. Thanks to coach Mike for great practices and getting all of the kids time in games and tournament play. It is great to see Coach Mike and Armstrong lead the program in the right manner and to have this unique opportunity for such a great basketball organization in HoopDreamz. Thanks also to Lauren for all of the communication and behind the scenes work that goes unnoticed. Best of luck this upcoming season. We will see you around the gym.
Mike – Maywood
Billy and crew:
I just wanted to give you some positive feedback on the benefits of your program. I can honestly say that all of the lessons have really paid off. Michael had a breakout game and scored 16 points. He passed well and dribbled with authority and had a few steals. He had a lot of self-confidence on the court. Having had the opportunity to watch a number of your practices I could really see that all of the skills you guys have drilled into him take hold. Keep up the great work.
Evan – River Vale
Brandon has made great improvements because of your program which my husband and I can't say enough about. We love the coach's philosophy and the way he handles the players. He is so amazing! Thank you so much for offering such a fantastic program. We are so lucky to live in this area and benefit from you guys. All our family's love to you and what you guys give to the community. Our boy is a better player and better person due to your program.
Jamie – Old Tappan
Dear Lauren and Coach Frank,
Thank you again for a wonderful season. Kishan had a great positive learning experience and enjoyed being a part of Hoop Dreamz. Coach Frank taught Kishan a great deal and was such an inspiration. Kishan looks forward to continuing with Hoop Dreamz in the near future.
Sharad & Radhika – Paramus
Billy,
I wanted to thank you for all you did with the Girlz 7 team this spring. Watching them grow to trust and care about each other both on and off the court was awesome. From where I was sitting, it looked each girl grew as an individual player and a teammate.
Personally, I want to thank you for igniting a spark in my daughter. She really welcomed the challenge of learning to play better man-to-man defense, and started to 'see' the game better on the offensive end. I know I have never seen her more confident on or off the court.
'How' you coach them really is special to watch. Thank you for doing what you do.
Leon – Oradell
Great job with the boys on Saturday. That was a rough game to coach and play in and you all were so collected and focused. Great to see our boys handle the pressure so well. You're teaching them many more important life lessons beyond basketball! You run an amazing program and we can't wait to play for you again!
Holly – Franklin Lakes
I cannot tell you how MUCH Kassie is LOVING playing on this team. This is our very first AAU team experience and what a GREAT experience it has been for us! The girls are wonderful, the parents lovely, and the coaching fantastic. It has been well worth every penny and hour spent. Kassie has learned so much and is having so tons of fun doing it! She has made some great new friends, as have I as her mom. So thanks to you, AND COACH FRANK, for teaching Kassie such great basketball skills as well as lifelong lessons.
Lori – Hasbrouck Heights
I want to thank Billy, Lauren and the Hoop Dreamz team for a great season. In my opinion, the program is teaching exactly the right content, ranging from seeing the court and not being afraid of flesh-to-flesh contact to respect for coaches and parents and trust in your teammates. The boys made friends, got great coaching, improved their games and had fun. It is what youth sports is all about. The lessons I personally learned by attending every practice will be passed along to the Woodcliff Lake Travel Team this Winter. Thanks again.
Steve – Woodcliff Lake
The Hoop Dreamz program is a grand success! Billy goes beyond teaching a game. He guides the kids to become great leaders. He instills respect, strong work ethics and gratitude. He holds them accountable and truly cares! The Hoop Dreamz team/staff makes a difference! For this I am eternally grateful!
Lisa – Teaneck