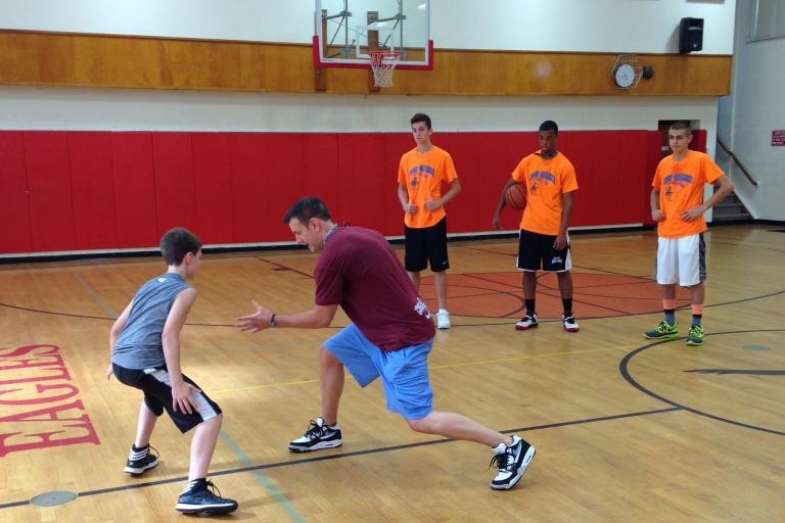 Virtual Training Program with Coach Billy
Improve your skills and stay game ready during quarantine!
Live Zoom workouts with Coach Billy every Monday, Wednesday and Friday 3:15pm-4:15pm
All sessions will be recorded and sent to members so you can do them any time.
Workouts include:
Billy's Mentorship & Motivation
Ball-handling & Footwork
Speed, Strength, Agility
Shooting Progression
Athletic Performance Workouts
Plus personal emails from Billy Armstrong with priceless motivational tips, mindset pointers and ways to develop high performance habits that he has learned along his journey as a Division-1 player, professional athlete and high school basketball coach.
$150 monthly membership fee – Join anytime – Cancel anytime
Email us at [email protected] to join!
Become Elite: Be the Best Version of You
Hoop Dreamz uses a unique training style that is unlike any other training around.We use a games approach to teaching which mimics more closely what goes on during a game.
In order to reach your full potential as a player you need a combination of skill training and mind training because ultimately basketball is a game of zero second decision-making.
In order to improve, the drills you use need to incorporate decision making, randomness, and unpredictability. Without these variables the improvement and learning stops.
Almost all our drills at HD include these variables. It's the reason why the players we train continue to get better over time and succeed at reaching their potential. Our players don't just get good at doing drills they get good at playing 5 on 5.
From Hoop Dreamz to College – Check out these players
Our system consists of what we call "2 sets of 2." These 6 concepts cover all the areas that every player needs to master to become elite. Our definition of Elite is "the best version of you."
Our 2 sets of 2 System:
1st set
Confidence – Above all else this is the #1 skill every player needs to have
Aggressiveness – We develop an attacking mentality in our players. As we know "chance favors the more aggressive player."
Execution – Execution of the fundamentals at a high rate of speed.
2nd Set
Decision Making – Basketball is a game of zero second decision-making.
Problem Solving – Coaches can't micro-manage your playing. Players need to make plays and solve problems on the court.
Talk and Communicate – This skill set is so important and separates the average from the elite.
This system is how you become Elite and is what makes training at Hoop Dreamz different from any other training you have ever done. Email to book your session today! We can't wait to help you on your journey to Elite.
Hoop Dreamz Training Sessions
Availability varies weekly. Email us to be added to the weekly schedule email.
Want to book a training session?
Prices (One-hour lessons)
Billy Armstrong
Private – $125
Semi-Private – $70
Mike Muggeo
Private – $95
Semi-Private – $60
Location
OLV (Our Lady of Victories)
155 Parkway
Harrington Park, NJ 07640