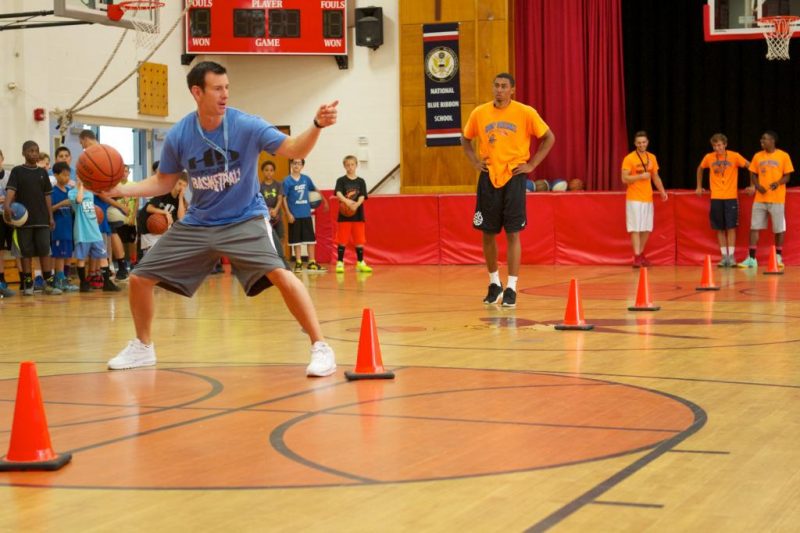 Summer Camps 2020
This summer we are offering five weeks of camp at Bergen Catholic High School in two three hour sessions based on grade. Camp will be held outside, utilizing three full courts. Players will be rotated inside as a cooling station and can go inside for bathroom use. It is possible that guidelines will change and we will be able to hold camp in the gym but until then camp will be outside. Camp is limited to 30 players per session so players will receive individualized instruction from Billy Armstrong and Hoop Dreamz coaches consisting of Bergen Catholic Coaches, former BC standouts and current D1 players..
This camp is geared towards competitive players with travel or AAU level experience. Camp format will be similar to our full day camp consisting of drills and skill development, games and contests. Games are allowed starting July 6th so 3 on 3 and 5 on 5 games will be played with our usual format of a league and playoffs at the end of each week along with our trophy presentation.
A certified athletic trainer is on site full time and will be doing temperature checks as well as asking covid-19 screening questions every day as campers and staff arrive.
STRICT LIMIT OF 30 PLAYERS PER SESSION – COMPETITIVE LEVEL PLAYERS ONLY
This camp is not for beginner players. Travel or AAU level experience is required. If you are unsure if this camp is the right level for your child please contact us before registering.
All weeks of camp held at:
Bergen Catholic HS
1040 Oradell Ave.
Oradell, NJ
Wk 1: July 13-16 – Older group FULL, Younger group 1 spot left
Wk 2: July 20-23 – Older group FULL
Wk 3: Aug. 3-6 – Younger group 1 spot left, Older group FULL
Wk 4: Aug. 10-13
Wk 5: Aug. 17-20 – Younger & Older groups going 9am-12pm
Each week runs Monday-Thursday. Friday will be used as a rain day if needed.
Grades 4th-6th – 9:00am-12:00pm
Grades 7th-9th – 12:30pm-3:30pm (week 5 attending 9am-12pm)
(Based on grade entering in Fall)
Camp Tuition: $395 per week
If you are facing financial hardship please contact us.
Camp Refund Policy
Camp tuition is non-refundable. In the event of illness or injury a camp credit will be issued with a one year expiration.
Covid-19 Refund Policy
In the event summer camp is canceled due to Covid-19 a credit will be issued. This credit can be used towards ANY Hoop Dreamz program and will never expire.
Things to Know (applies to full day camps)
Campers check in every morning (with or without a parent)
Campers can bring their own lunch or order pizza
Pizza ordering takes place every morning in the cafeteria
Pizza is $2.50 per slice
Cold drinks and snacks for sale throughout the day
Campers are responsible for their own money
Athletic attire and basketball sneakers are recommended
Do NOT bring a basketball – we have enough for everyone!
Parents always welcome to stay and watch
You can drop off as early as 8:30am – pick up by 3:15pm
Sample Schedule (applies to full day camps)
8:30am-9:00am –  Check in
9:00am-9:15am – Warm up
9:15am-10:15am – Skill development
10:15am-10:30am – Break
10:30am-11:15am – 3v3
11:15am-11:30am – Contests
11:30am-12:00pm – Lunch (younger) 5v5 (older)
12:00pm-12:30pm – Lunch (older) 5v5 (younger)
12:30pm-1:30pm – 5v5 (everyone)
1:30pm-2:00pm – Moneyball, knock out, 1v1
2:00pm-3:00pm – Skill development/contests/review/dismissal
View first hand how our camps work.
If you've ever been to a Hoop Dreamz camp, you know first-hand it's much more than ordinary skills, drills & fun competition. But you don't have to take our word for it… check out NY1 news reporter, Patti Murphy, as she covers our Presidents' Week Camp with action & interviews that reveal what makes Hoop Dreamz unique.
https://youtu.be/t6OEst5Y7mo